Girls are definitely different from one another, but there is one common denomination among them and this is by showing non-verbal signs that they like you and even in love with you. However, looking for these signs can be an arduous task as you must have a keen eye to search for them. But once you knew that the girl you cherished the most likes you, then consider yourself so lucky since you are cinched to have a greater chance of having her as your girlfriend (or even a partner for the rest of your life) after of course overcoming the passionate yet tricky courtship stage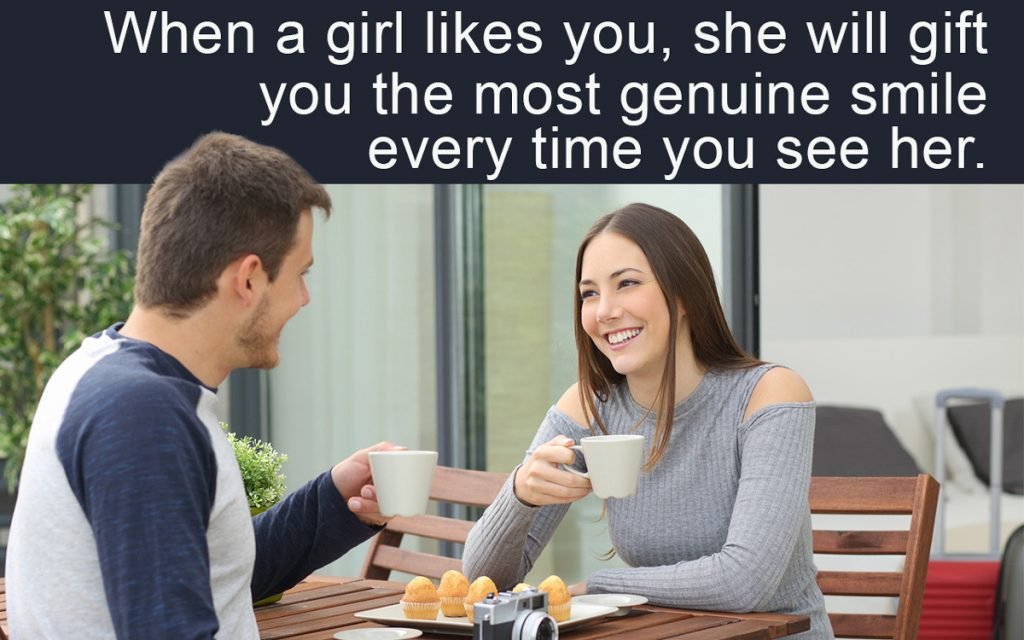 10 signs that a woman or a girl likes you:
She will laugh even with your corniest jokes.
She will accept your invitation for a date. Keep in mind that if she wants a chaperone at your first date, this is okay. But see to it that in the second or third time around, there will be no more chaperone, so that both of you will get to know each other well and enjoy the date further.
She often mentions your name.
She becomes so happy especially when you are around.
She can set aside time for you for storytelling, cracking jokes, doing assignments and research and the like.
The girl will not resist if you hold her hands or touch her.
She will secretly steal a glance at you.
She will do something to get your attention.
She blushes and gets angry when her friends tease her about you.
Keep in mind, that some girls are straightforward. A girl may say directly to you that she likes you without batting an eyelash. This is a way of letting you know that she has special feelings for you and you tend not to sense this.
10 Signs that a woman or a girl is in love with you:
She suddenly become curious with her looks as she dresses up well and wears makes-up after she becomes as your girlfriend formally.
You can text her all day long and she thoroughly enjoy it.
She will pay a visit to see you at your place.
She will get jealous of your friends (especially with the female ones and even at your best friend).
She is willing to change something you don't like on her just for you.
She is willing to serve you.
She is so happy at all times and has a very sweet smile that can melt your heart.
She has tantalizing eyes.
She will value all the things you gave her and keep them like treasures.
She wants to be with you most of the time and thoroughly enjoys your company.
That's it folks thank a lot for the read… I hope you will come back for more in the days to come.
I will appreciate it a lot if you will "like" this hub and/or leave a feedback at the comment box below.